From 11th to 17th of June 2022
1 registered student
13 beds left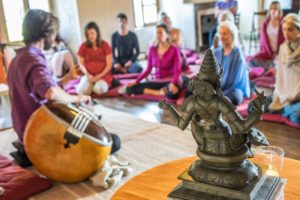 Hatha Yoga and Nada Yoga course
Body and resonance
In the Indian tradition, meditation, pranayama and asanas are intimately linked to the circulation of energy, prāna, and to vibration, spanda.
Through it, it's access to sound, to resonance. And through sound to its aesthetic dimension, music.
This course invites you to grasp the physical and subtle dimensions of being by exploring two complementary disciplines: Hatha yoga … and Nada yoga, yoga of sound.
Time table program and prices on the Program button below.
Hatha yoga puts the deep being in contact with its physical, energetic and mental envelope. By the presence of the breath, the being testifies to the different envelopes from coarse to subtle.
The practice of the yoga of sound highlights the power of sound and music on the human being for a global harmonization of the different physical, psychic and subtle levels. It is inspired by universal tradition.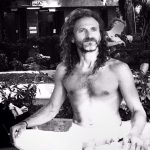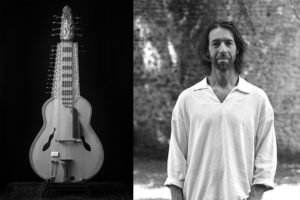 Rooted in tradition and teaching for more than 15 years, Hubert and Reno accompany you for a rich and deep week of learning and practice.
At the foot of Mont Blanc, an ideal retreat between posture and song, between breathing and listening.
Program :
Yoga:
– anchoring: connection to earth activating the internal keys
-breath: connection with the vibration of life, to the presence activating other internal keys
– concentration: work of prolonged concentration activating the released consciousness
-all put into practice in sitting and posture
Nada yoga:
– the breath: respiratory system and subtle energy circulation.
– vibration: vocal apparatus and opening of the voice, the first sounds.
– resonance: internal harmonization through song. OM, bijas mantras, universal mantras.
– Indian classical music: introduction to dhrupad singing and the repertoire of ragas.
Bio Hubert
– 500h in "Ayurveda Massage" by Kiran Vyas from Tapovan, France
– 500h RYT Vinyasa "Ecole des Ailes du Yoga" by Caroline Boulinguez in Paris, France
– 500h RYT Ashtanga "Sattva Yoga Shala" with Mark and Joanne Darby in Montreal, Canada
– 500h RYT Hatha "Dharma Yoga Center" from Dharma Mittra in New York City, US
– 100h RYT for Yin Yoga with Biff Mitheofer, US
– Introduced to Babaji Kriya Yoga by Marchall Govindan, Canada
– Introduced to Babaji Kriya Yoga by Shailendra Sharma in Govardhan, India
– Certified in Ashtanga "PAVY" Mysore with Sheshadri & Harish in Mysore, India
www.sattvayogachamonix.com
Bio Reno
Reno Daniaud is a musician and teacher. Disciple of Pandit Debashish Bhattacharya and Ustad Sayeeduddin Dagar, and alongside his work of musical creation, he explores the subtle dimensions of the sound and vibration universe in the Indian tradition in particular.
www.laviesilencieuse.fr
www.inthemoods.fr
In practice :
Arrival on the 10th June starting the 11th in the morning and departure the 17th of June mid day.
Program 3 hours in the morning and 3 hours in the afternoon
Morning 9 a.m. – 10:30 a.m. Hatha Yoga then 10:30 a.m. – 12 p.m. Nada Yoga
Afternoon 2 p.m. – 3.30 p.m. Nada Yoga 3.30 p.m. – 5 p.m. Hatha Yoga
Accommodation: on site 200 euros per week
Organic vegan lunch all together 15 euros per day
Worshop prices: Early bird reservation befor 11 of may 600 euros
  From 12 may reservation 700 euros
Contacts and info: hamsa (@) sattvayogachamonix.com
Optional: marma chikitsa or abhyanga massage
Doris Strano