Sattva Yoga Chamonix's classes are given in french and/or in english according to the students needs.
Hubert de Tourris (Hamsa)
Sattva Yoga Chamonix founder.
Born in 1968, the desire for liberation year, Hubert seeks freedom on the spiritual path in search of the Self realization. He was very young when he had a mystical experience, connecting the inner world and the outer world. From a young age, he did Zen meditation, practiced Do-in technics (self massage and postures similar to yoga) and experienced some martial art forms. His life led him to experiment with music, video in high mountains and extreme sports. Since 1989, he was fortunate to become a steep skiing cameraman, living in Chamonix. Hubert shared the point of view of athletes who need to stretch and relax deeply, but also of those in search of spiritual awakening.
His vision allows him a comprehensive understanding in accordance with the fundamental principles of Yoga and Ayurveda. Simultaneous vision of the one and the many, it is in this unity that the spirit leaves the dichotomy pleasure/pain to enter inner peace. The yoga is the method to achieve the state of Yoga, the ultimate freedom in unity.

To continue his studies, he traveled to India, Europe and the United States; in terms of the Ashtanga Vinyasa
Yoga Hubert followed the teachings of Gustav Björkman and especially Mark Darby for more than 10 years diligently, he also took numerous courses with Matthew Sweeney, Rolf and Marcy and Sheshadri (Mysore India). As for the occasional courses he met many teachers such as David Roche, Basia Lipska, Sharath Jois (Mysore India), Michael Stone and many others.
– 500h "Ayurveda Massage" with Kiran Vyas with Tapovan, France
– 500h RYT Vinyasa "Ecole des Ailes du Yoga" with Carolina Boulinguez à Paris, France
– 500h RYT Ashtanga "Sattva Yoga Shala" with Mark and Joanne Darby in Montreal, Canada
– 500h RYT Hatha "Dharma Yoga Center" with Dharma Mittra in New York City, US
– 100h RYT Yin Yoga with Biff Mitheofer, US
– Babaji's Kriya Yoga initiation with Marchall Govindan, Canada
– Babaji's Kriya Yoga initiation with Shailendra Sharma in Govardhan, India
– Certified in Ashtanga "PAVY" Mysore with Sheshadri & Harish in Mysore, India
The daily practice of Ashtanga, Vinyasa of, Hatha Yoga and other styles (Yin, Nidra, Japa, Bahkti, Kriya …) allows him to teach in different ways to help students expand their possibilities both physical and mental and open to the vast inner world.
Nicolas Ligonnet
During his teenage years Nicolas started to get interested in meditation, yoga and different subjects on eastern philosophies. In 2011 he learns some yoga excersices from a friend of his, and later on discovers the five tibetan rites from a book, and starts to practice and incorporate these into his daily life, making it his first introduction to yoga. In 2013 he goes to India for the first time, attending a 200 hour Hatha Yoga Teacher Training in an ashram, living simply and learning more deeply about yogic life and philosophie.The following year he returns to India, traveling around the Himalayas and practicing asanas and pranayama and attending his first 10-day Vipassana meditation retreat.
This year he also meets his teacher Hubert de Tourris and starts practicing in the Sattva Yoga Shala in Chamonix. In 2016 he is introduced to the Ashtanga Vinyasa system and starts to practice it regularly. The following years he attends workshops with Shankara Darby and two Teacher Tranings with Mark Darby in Chamonix and later with Sheshadri in Mysore. Taking the opportunity while being in India, he also does a second Vipassana meditation reatreat.
End of 2017 he meets the great Guru of Kriya Yoga, Shailendra Sharma, and gets initiated into the practice. Ashtanga Vinyasa Yoga Teacher Training with Joanne and Mark Darby. In September 7, 2016, she is introduced to Babaji's Kriya Yoga by Guruji Shailendra Sharma in Govardhan, India. A year later, in November 2017, she will take an Ashtanga Vinyasa Yoga course with Sheshadri and Harish in Mysore, India, where she will go deeper in the asana and pranayama practice.
Ariel Cepeda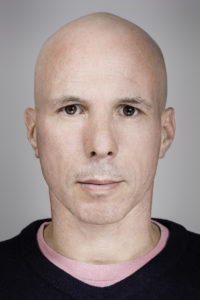 Ariel Cepeda, born in Buenos Aires, Argentina, made a career as an editorial graphic designer traveling through several major cities in the world. Being interested and always adapting to the language and culture of each peace. Sportsman since very young, he tries to balance the sport with a research in his expression and creativity practicing the contemporary dance during several years. In 2016, in search of oneself, he begins a change of life. He rediscovers yoga with Hubert and begins a long work on himself which brings him to Bali, Greece and India to follow trainings that will be complemented to give a simple and direct style based on the traditional teachings of Hatha Yoga a complete way.
Trainings: RYS 200 TTC with Greg Kaps at Yoga Barn Ubud Bali.Advance Diploma in Yoga at Yoga Vidya Gurukul Ashram, Maharashtra, India.190 hours of Thai Yoga Massage at Sunshine House, Greece.50 hours Sivananda Yoga Teachers Training Refresher, Sivananda Ashram, France.100 hours Yoga Psychology Program at Yoga Vidya Gurukul Ashram, Maharashtra, India.