From 11th to 23rd June 2023
7 registered students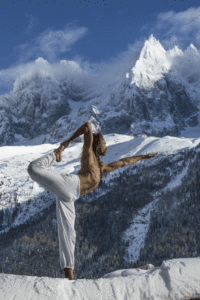 A daily practice of Yoga and Ayurveda of several decades as well as a teaching of more than 15 years, allow us today to offer you solid training.
It is with joy and passion that we teach the holistic understanding of Yoga and Ayurveda. This understanding is necessary for a healthy, safe and sustainable practice.
Based on our experience of this holistic practice, the philosophy, methodology and all its protection and development techniques, Western and Ayurvedic anatomy and physiology, as well as psychology, will be transmitted to you.

Prerequisites and Objectives

2 years of practice
Telephone interview with Hamsa of 30min (+33664152992)
A video of you practicing the Sun Salutation to send to info@sattvayogachamonix.com
This training offers teaching aimed at training you in the understanding, practice and transmission of yoga.
GLOBAL PROGRAM

This training consists of 2 sessions, which will take place in the Sattva Yoga Shala school in Chamonix. The first two-week session can be divided into two modules for people who wish to do only one week of non-certifying internship. The second session includes two weeks of certifying training the following year.
First session from June 11 to 23, 2023 for the first two modules then second session in around 2024 on the same dates.
Learn the philosophy of Yoga and the way of life of Ayurveda
Developing a personal practice
Learn the different schools of Hatha and Vinyasa Yoga
Develop awareness of alignment and connections for safe practice
Cultivate introspection and personal discipline through the practices of asana, pranayama, meditation
Develop the listening, observation and gestures necessary for transmission
DETAILED PROGRAM

Session 1: 1st module from June 11 to 16, 2023 from 7:30 a.m. to 12:30 p.m. then from 2 p.m. to 5 p.m. except last day end at 12:30 p.m.
Introduction to anchoring and connections
Introduction to yogic breathing
Introduction to meditation
Development of the practice of Hatha Yoga
Introduction to Ayurveda
Introduction to the basic texts
Session 1: 2nd module from June 18 to 23, 2023 from 7:30 a.m. to 12:30 p.m. then from 2 p.m. to 5 p.m. except last day end at 12:30 p.m.
Development of grounding, bandhas and connections
Practice of fundamental Pranayamas meditation practice
Practice from Hatha Yoga to Vinyasa Yoga
Application of Ayurveda in daily life and in practice
Study of the eight limbs of Yoga
Session 2: YTT 200h from June 9 to 21, 2024 from 7:30 a.m. to 12:30 p.m. then from 2 p.m. to 5 p.m. except last day end at 12:30 p.m.
Yoga Alliance certified teacher training 200h Hatha & Vinyasa Yoga.
Prerequisite to have done the first two modules.
 Contents:
Conventional anatomy and physiology applied to Yoga
History and philosophical foundations of Yoga
Study of philosophical and practical texts
Traditional practice of Asanas: bandhas, connections, anchoring
Initiation to mudras in accordance with the texts
Traditional practice of Pranayama
Development of concentration and meditation
Applications of breath, concentration and bandhas in asanas
Development of postures linked in sequences
Introduction to pedagogy: alignments and adjustments
The ethics of the teacher in his humanity and his financial and legal reality
Requirements to obtain the 200h YTT Sattva Yoga and Yoga Alliance certificate:
– Compulsory attendance at all classes of the two intensive courses, no absence allowed.
– Return of homework on time after each course, no delay will be accepted.
– Effective progression of knowledge and practice between session 1 (first year) and session 2 (second year)

PRICES
The Price per Session until May 10 is 1200 euros, the first session can be divided into two modules, the price of a module in this case is 750 euros each. These prices do not include meals or accommodation, only teaching. From May 11, these rates will be increased by 150 euros.
Reservations are 300 euros and the number of places is limited to 16 students per session. The minimum number of students per session is 5 people.
General conditions of sale and cancellations
In the event of cancellation of registration for the course, it will only be admissible by telephone confirmed by e-mail.
– If cancellation after collection of the reservation only, no refund will be made, but the reservation will still be valid the following year.
– If canceled after full collection of the course, the refund will be as below on the total amount paid. If the cancellation occurs: 1) More than 60 days before the start of the service, 80% refund 2) From the 31st to 60th day before the start of the service, 50% refund 3) From 0 to 30th day before the start of the service, no refund will be granted.
Here is the program of a typical day, of course the organization is flexible and the program will be readjusted according to the needs of the group and each one.
7:30 am: pranayama / meditation
8 a.m.: yoga
9:30 a.m.: short break
10 a.m.: study
12:30 p.m.: lunch break
2 p.m.: study
3:30 p.m.: workshop
5 p.m.: end
Anne-Sophie Lefaillet
Myriam Combet Brissard
Karen Bodin
Weijing Grandchamp
Céline Gastel
Marie-Françoise Polette
Jacques Courtade