Please send us an email for any information.
Intensive Yoga training course with study, practice and deepening of the Vinyasa Krama system, energetic and facial anatomy, applied philosophy, Ayurveda and teaching.
Shankara has been teaching internships for over 13 years and Hubert has been teaching for so long. Their approach is deep and precise, they both experienced the energetic and subtle dimensions of the practice. Their love of Yoga and its transmission leads you to explore spaces until then unknown.
Aspiring to greatly deepen your understanding of Yoga  Practice in modern times and gain the tools and skills to share it with others in a safe and trusting way?
Looking to develop your yoga practice within a traditional framework while taking a journey of self-discovery and personal growth?
This course is for anyone with a genuine interest in learning.
Arrival may 14 departure may 28 2021.

The course will take place in the magnificent Glacier des Glaciers, at the foot of Mont Blanc, the shala has a superb view of the mountain and accommodation is on site in the cottage*, in double, triple or quadruple. A kitchen is available with three bathrooms. At your disposal sheets and towels.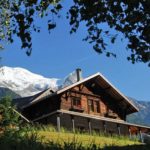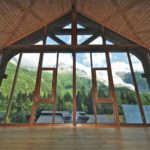 We will explore the Ashtanga and Vinyasa Krama methodology
-Breathing, Bandha/Posture, Gaze and Vinyasa Krama. Understanding the importance of these principles, their role in the good development of the physical practice, and also how they bring steady development and harmony of all aspects of being.
-Exploring the sequencing of the Mysore Ashtanga Tradition along with other posture sequences from traditional sources, to carry these roots into your practice and teaching.
-Preventing and dealing with injury, both in ourselves and in others through good understanding of yoga asana and body mechanics. This will involve a study of the basics of fascial meridians and their role in bio-mechanics.
-We will develop an eye for reading into another's posture and alignment within the practice. -An in depth study of the Yoga Sutras of Patanjali and other pertinent texts.
-Developing sensitivity through touch and learning the art of making adjustments with healing hands. -Communication and the art of teaching. Learning to transmit basic knowledge of the practice within the context of a guided class.
-Meditation and awareness through movement.
-Basics of nutrition, Initiation to Ayurveda and healthy living.
-The teacher student relationship, and the ethical implications for the teacher.
-And much more…
Share a rich and intense yogic experience and learn to teach it.

Training in Chamonix Mont Blanc over two years: 
Prices: 2 weeks of internship or 100 hours in 2021
1200 euros two weeks with reservation until April 15
1400 euros two weeks with a reservation from April 16
Optional accommodation (recommended) 14 nights : 430€ / year
One meal per day (recommended) for 13 days : 240€ / year
The complete training takes place over two two-week sessions, for a total of 200 contact hours, next session next year same period.
The price of the reservation is 310 euros.
Number of places limited to 14 people for accommodation and 18 people for the training course.
* PLEASE NOTE: The first 14 who have booked will have a bed on site … From 15 people, you will need to stay elsewhere during the course.
General conditions of sales and cancellations
The total payment of the benefit will be cashed one month before the beginning of the internship at the latest.
In case of cancellation of registration for the course, it will be admissible only by phone confirmed by an e-mail.
– If cancellation after receipt of a deposit or payments, no refund will be made.
– If cancellation after total receipt of the registration, the refund will be as below on the total sum paid.
If the cancellation occurs:
More than 60 days before the start of the service, 80% refund
From the 31st to the 60th day before the start of the service, 50% refund
From 0 to 30 days before the beginning of the service, no refund will be granted.
Contact: hamsa@sattvayogachamonix.com